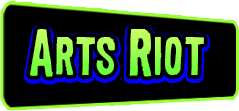 "Glam, camp and totally over the top! If you want a late-night party, hit Saucy Jack's space bar!"
Evening Standard
Set in a seedy cabaret bar on the dark side of a distant planet, where the acts are being picked off by a serial killer with a penchant for sequins, Saucy Jack and the Space Vixens is a truly immersive theatrical experience. The audience, are the patrons of Saucy Jack's bar, relaxing at tables, drinking and dancing while the show explodes around them.
Having delighted audiences around the world for over 20 years, including three West End uns, this award-winning musical is back in the capital with a transfer of its exuberant cyberpunk production fresh from the Edinburgh Festival. Saucy Jack and the Space Vixens lands at the King's Head Theatre in Islington for four weeks of glitter-fueled fun from April 26th. Dust off your glitter boots, set your disco beams to stunning and join in with this all singing, all dancing, disco spectacular.
"A cabaret nightclub experience like nothing on earth!"
Axiom News
"A wild and whacky night of plasticky razzmatazz!"
Time Out
"An exhilarating hymn to individual freedom!"
Scotsman
"A mesmerising medley of non-stop disco dance camp!"
West End Extra
After a bombastic, exciting and innovative 45th year, the King's Head continues its new artistic policy of being a crucible of new writing and critical rediscoveries, whilst also welcoming the much anticipated return of pub opera, with the aim of being the best pub theatre in London.